Anthology of technology.
The 2013 Mustang raises the bar yet again with an even more impressive lineup of engines. There's the Shelby GT500™ with the most powerfuel production V8 engine in the world -- the 650-hp 5.8L supercharged V8 capable of more than 200 miles per hour on the track. The Hi-Po 302 Boss® 302 delivers 444 horsepower** and 380 lb.-ft. of torque. There's the first-ever 305 horsepower, 31 highway mpg* V6 and the 5.0L V8 that pumps out a smoking 420 horsepower** and 390 lb.-ft. of torque. And all engines are mated to six-speed transmissions. For the crowning touch, you can equip your GT500 with the Performance Package, featuring Bilstein electronic adjustable dampers you access on the dash. Simply push a button to go from normal mode to the performance-oriented sport mode.

Shelby GT500™
The Shelby GT500™ was designed to smoke the competition. Under the hood is the most powerful production V8 engine in the world: a supercharged intercooled 5.8-liter 32-valve V8 engine delivering 650 horsepower*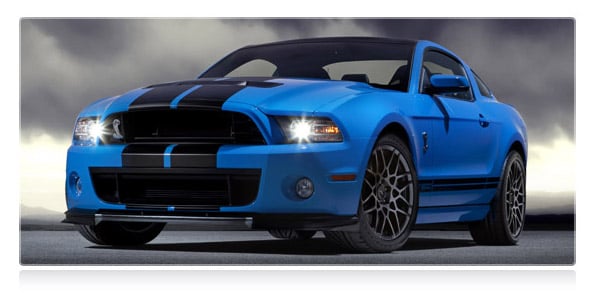 and 600 lb.-ft. of torque. The engine is mated to a TREMEC® 6-speed manual transmission with an enhanced 3.31:1 final drive ratio. With all that power, you'll want brakes that are up to the task. We beefed up the 14-inch Brembo vented rotors with Brembo six-piston calipers in the front and 11.8-inch vented rotors with a single-piston caliper in the rear. We didn't stop there. You can tune your ride through four different settings of the Traction Control System, from performance-based settings for the track to street driving. And when equipped with the Performance Package, you can adjust the SVT-designed Bilstein electronic adjustable dampers from the cockpit -- normal mode or sport mode for track driving. You can also add a Track Package, featuring an external engine oil cooler, rear differential cooler and transmission cooler. Other features include downforce-generating front grilles, an aggressive splitter, new quad exhaust tips and new 19-inch (f) and 20-inch (r) premium painted forged aluminum wheels.

Legendary 5.0L V8 Engine
The Mustang 5.0 engine pays homage to the original 5.0, delivering 420 horsepower* -- eight more horsepower than the previous engine ? and 390 lb.-ft of torque. The powerplant features twin independent variable camshaft timing (Ti-VCT), an aluminum engine block and cold air induction to help pump out more power. But that's only for starters. The 5.0 also has a compression ratio of 11:1 and a cylinder head designed to optimize airflow. From the High-Energy Coil on Plug design that allow the pistons to run cool, every part under the hood is designed to work in harmony. This lets the muscular engine breathe efficiently and deliver 100 percent exhilaration every time you hit the gas. And then there's the exhaust delivering a distinctive throaty roar. Purely Mustang.

Boss® 302 Laguna Seca
The 2013 Mustang Boss® 302 Laguna Seca is the ultimate purpose-built track Mustang. It includes brake-cooling ducts, a front-air splitter* to help with downforce, TORSEN® helical differential 3.73:1 axle ratio, exclusive 19-inch sterling gray-painted wheels and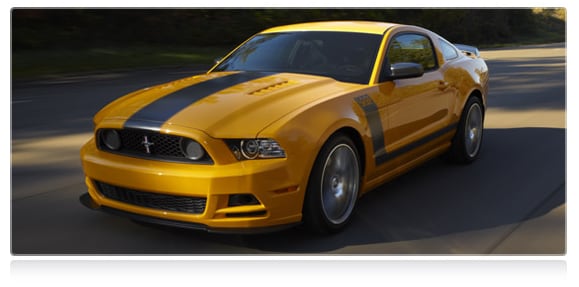 R-compound tires. Inside, the Mustang Boss 302 features RECARO® cloth sport seats with gray-embroidered BOSS 302 logo and rear seat delete with cross-car X-brace. On the track, on the street, this car begs to be pushed to the limit. And beyond.

We amped up the attitude.
The 2013 Mustang features an aggressive new look. From its redesigned front end featuring a splitter and unique LED (light-emitting diode) accents in the head- and taillamps to body accents, the 2013 Mustang is a sleek representation of raw modern power. Of course, we kept the signature pronounced curves, kicked-up haunches and dual exhaust system that produces the unique Mustang roar.

Convertible Top
A sense of freedom comes alive with the option to put the top down and let the elements inside. Ford engineers have made that experience even more enjoyable, thanks to a design that helps give the Mustang Convertible an even more solid feel. So go ahead and enjoy the ride. Take a pleasure cruise or roll through your daily commute -- top down and carefree. Convertible models are available for 2013 Mustang V6, V6 Premium, GT, GT Premium and Shelby GT500.™

Not just high performance, high-tech.
Under the hood, under the skin or in the cabin, Mustang features an impressive list of high-tech features. There's the available Track Apps that gives you performance metrics -- everything from acceleration times to g forces measurements. The Shelby GT500 can be equipped with the Performance Package, featuring SVT-designed Bilstein electronic cockpit adjustable dampers, allowing you to dial in the type of ride you want. Available SYNC® lets you activate your phone, music and more,* and the available Navigation System with integrated SiriusXM Traffic™ and SiriusXM Travel Link™ provides directions, traffic alerts and gas prices.** Brains and brawn. Nobody does it like Mustang.

Track Apps
The factory-installed Track Apps provides a wealth of performance data. Using the steering wheel-mounted five-way buttons, you can view six menu options.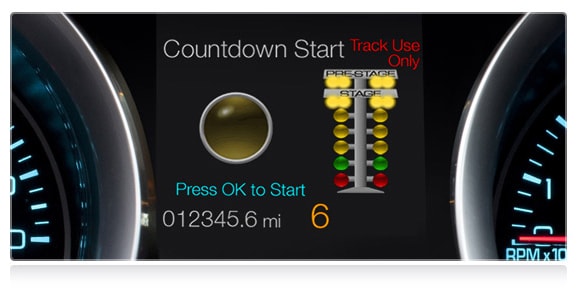 Information displayed includes:
-Accelerometer displays lateral and longitudinal g forces
-Acceleration times
-Automatic start and countown start
-Brake performance


Performance close at hand.
The 2013 Mustang cockpit blends world-class craftsmanship with premium materials. A seamless, soft-touch skin wraps the one-piece instrument panel. The floor console runs in a smooth, flat arc for precise shifting, while the shifter features a uniquely modern retro look. For comfort and support, you can add available race-inspired integrated RECARO® cloth or leather-trimmed seats. The available Shaker™ Audio System with HD Radio delivers an impressive audio performance. Available ambient lighting glows in your choice of seven colors to match your mood. For an added touch, you can choose available aluminum-styled interior accent panels.

---